non-technical: suitable for any reader
The work I did as part of the
RISS 2017 program
was extended into mid September and submitted to ICRA. My colleague Gabe and I had set ICRA as a primary goal during our internship which motivated us each day to push out our maximum effort. We were delighted to hear the good news around January.
ICRA: The International Conference on Robotics and Automation
, is one of the largest conferences for its domain. Hundreds of researchers, investors, and other professionals are travelling to Brisbane Australia this year to participate in research, business forums, and competition.
At a typical conference there are different levels of talks:
Plenary:
The whole conference gathers in a large stadium-like environment.
Rodney Brooks gave a plenary talk at ICRA this year. He's a pioneer in robotics, founding companies like iRobot (the Roomba) and Rethink robotics
Three plenary talks were given throughout the week.
Keynote talk
: Keynote speakers give a smaller talk; but focused on a particular area, and it encompasses the focus of the conference in that area. Andrea Schoellig, a professor from the University of Toronto, gave a Keynote talk on Machine learning for safe, high-performance control of mobile robots. There were roughly 18 Keynote talks given in the week.
Workshop/Tutorial Talk:
There were a collection of tutorials hosted throughout the week, each focusing on a varying and more narrow topics. I attended the workshop on
Informative Path planning and Adaptive Sampling
along with the workshop
Swarms: From Biology to Robotics and Back.
There were over 25 tutorials happening (some full day and some half day) totalling 200 talks.
Poster Presentation
: The last main type of research presentation at ICRA is a poster presentation. This is what Gabriel and I were involved with! Most days of the conference had separate poster sessions in the morning and afternoon. This allows for a collection of researchers to set up their poster, and pitch it to groups that come by. I'd estimate at least 500 posters were present.
Arrival in Brisbane
I departed from San Francisco on May 18th and flew to Las Angelas, then Sidney, and finally landed in Brisbane on the morning of May 20th with substantial jetlag.
Brisbane is incredibly clean. This shot was taken at sunrise. Winter is just starting in the southern hemisphere.
Lots of photography opportunity here!
Conference Opening Day
The first day of the conference I met with Gabe and we attended a workshop on adaptive planning and sampling. There was an opening ceremony with indigenous dancers that gave a wonderful look into the rich cultural ancestry of Australia.
RISS Reunion! We found Yunfei, who was one of the RISS scholars in 2017 with us.
The second and third days were spent exploring the employer stands, competitions, and posters. I'm just going to dump some media here.
There was lots of entertainment going on during the day.
Looks like a massive koala-hamster (actually a wombat)
Gabe and I spent the evening with Lindsey and Chelsea, a couple of ICRA volunteers both attending local Universities in Brisbane. They were introducing us to some of the favourite snacks in Brisbane, and the wide spanning vernacular that distinguishes aussies from the rest of the world.
We tried chocolate koalas,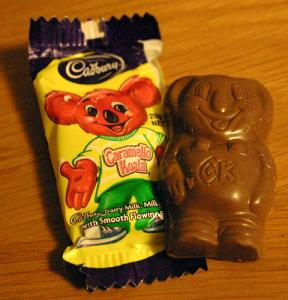 and Tim Tams,
both sweet desserts popular in the region. Lastly they convinced me to take a spoonful of this...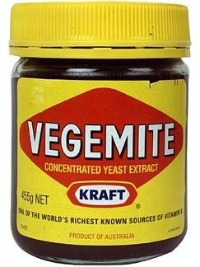 Vegemite....
I don't really know how to describe the taste of this one... Except for the fact that I could I swore they tried to kill me.
Vegemite is a reddish black paste formed using leftover brewers' yeast extract with various vegetable and spice additives. It was popularized in Australia as a WWll ration, and now commonly used as a spread for sandwiches (think peanut butter and jelly, except instead of jelly you spread
literal hell
on your sandwich). The point is folks in Australia genuinely like the stuff and it does have a lot of nutrients. It's an acquired taste, that's for sure.
We met many other new friends in the evenings and got to sight see the Brisbane area. We were quite fortunate to get such a behind-the-scenes tour of Australian culture, beyond the typical tourist events.
Day 4
...and on the 4th day, Gabe and I presented our poster!
Thank you for the help Dr. Sycara, we learned a lot!
We had quite a number of folks come talk to us about the work.
You can find our
paper here
if interested! I'll probably make a post in the future outlining the details of this paper as a more abstract overview.
Day 5
The last day of the conference was spent at a swarm robotics tutorial. There were some fascinating talks, ranging from modelling immunity cells in the body, to live demonstrations of ants attempting to make a home. I really enjoyed how diverse this tutorial was, and how it wound together biology and robotics so nicely.
These Australian Weaver work together to pull the thin end of the leaf back over itself, and then spin silk to close the gap and make a home.
Weekend
On Saturday Gabe and I took a boat tour to the Lone Pine Koala sanctuary!
This Emu was as tame as a friendly dog. It was quite amusing to have it follow me around and get up so close.
One big happy family
That night I stayed in Bunk Brisbane hostel and worked out at a local calisthenics parks.
This convenient park is wedged in between some hotels in Fortitude Vally, just off of Ann Street. I didn't have my rings with me but managed to fit in a good workout.
Conclusion
ICRA 2018 was a blast, and getting accepted was worth every hour of hard work Gabe and I put in to our research. Of course, thank you so much to Dr. Katia Sycara, Dr. Changjoo Nam, Sasanka Nagavalli, and others from Carnegie Mellon's Advanced Agent Technology Robotics lab, for the valuable support! We wouldn't have made it here if it weren't for your guidance.
I'm back in San Francisco now; but I made lots of valuable connections in Australia and met many bright individuals. I'm hoping to further grow those connections from SF.
This Koala has a very powerful vibe and so it shall be the closing mood in this blog post.